Supreme court delays considering verdicts against alleged rapists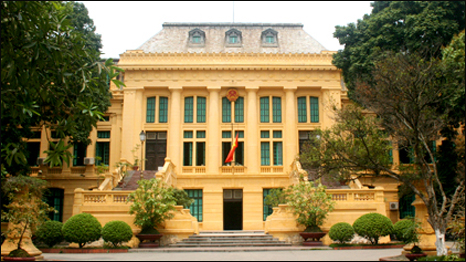 Vietnam's Supreme Court has again stalled an appeal sought by three men who were convicted of robbery and rape in 2002.
The Supreme Court said on July 5 that the Supreme People's Procuracy Vietnam's highest prosecutors' office, needs to submit more evidence before the court can render jail terms totaling 41 years handed down to Nguyen Dinh Tinh, Nguyen Dinh Loi, and Nguyen Dinh Kien, aged between 29 to 30.
The hearing was originally scheduled for June 4 but was deferred until July 5 due to the absence of some members of the board of judges.
The trial, which is expected to resume next month, has taken a variety of dramatic twists and turns.
During their first trial in April, 2002 in the northern province of Ha Tay [which was merged into Hanoi in August, 2008], Tinh and his nephews - Loi and Kien were found guilty of robbing a couple on the night of October 24, 2000.
They had used a knife to control the man and took turns raping his girlfriend, the indictment said at that time.
A court of appeals in Hanoi in 2002 upheld the verdicts.
In January 2010, the Supreme People's Procuracy proposed to reconsider the verdicts handed down to the trio, citing a discovery of crucial errors in investigative and prosecutorial procedures.
For example, Ha Tay authorities had failed to take the men's alibis into consideration.
Many people had seen the young men at a birthday party during the time the crimes took place, VnExpress news website quoted prosecutors as saying.
Local media last month reported that the case is under review thanks to Pham Thi Hong, a traditional medicine practitioner from a local hospital.
Hong, who has spent many years studying acupuncture points and meridians, told the press that she first met Loi, who came to her hospital for a health check-up in 2006.
She then discovered that a meridian under his earlobe was still intact.
Hong claimed that a man's meridian breaks when he first has sex. She added that it is penetrated by a "flow of yin air" from his partner.
Because Hong's meridian findings qualified as admissible evidence, the doctor went on to research the case and found numerous inconsistencies. After filing several appeals to related agencies, Hong was reported to have threatened to burn herself to protest the young men's innocence.
Her determination finally caught the attention of President Nguyen Minh Triet, who ordered the courts to review the case, according to reports.

Reported by Thanh Nien staff

http://www.thanhniennews.com/

Photo: Vietnam Supreme Court (Hanoi)
Các tin khác: