Những bộ phim quan trọng – Movies that Matter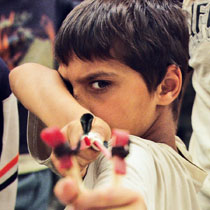 Điện ảnh là một phương tiện nghệ thuật quan trọng với khả năng thúc đẩy nhân quyền trên thế giới. Nhiều tổ chức phi chính phủ và cá nhân có nhiều sáng kiến làm các bộ phim tài liệu, điện ảnh với mục tiêu này.

"Những bộ phim quan trọng" - "Movies that Matter" là một chương trình làm phim kế tục các hoạt động của Liên hoan Phim Ân xá quốc tế (the Amnesty International Film Festival) trước đây. Sáng kiến này được hình thành từ năm 2006.

Trong tháng 5 năm 2012, phim "Justice for Sale" được trình chiếu lưu động tại nhiều quốc gia châu Âu.
Ảnh: cảnh trong phim "Min Dît - The Children of Diyarbakir" được chiếu tại nhiều quốc gia trong năm 2011.
Xem thêm:

http://www.moviesthatmatter.nl/english_index/over_ons_en

Founded in March 2006, Movies that Matter followed in the footsteps of the Amnesty International Film Festival. It continued and enhanced the festival's activities, both in the Netherlands and abroad, thus creating a unique organisation that serves as an international platform for films of interest dealing with human rights and social justice, and for their makers. Movies that Matter screens and promotes films and stages cinematographic events all year round. The film screenings are followed by an expansion programme consisting of debates, among other things. In doing so, MtM has become the expertise centre par excellence for film and human rights.


Movies that Matter believes that the film camera is a powerful weapon against social indifference. Film has an unprecedented capacity to open eyes. What cannot be accomplished by spoken and written language, is sometimes achieved by motion picture. Cinema fascinates, stimulates, inspires and raises awareness. It serves as a mirror and helps us to become familiar with other cultures. Inspired films incite to compassion, reflection and discussion. Films have an emotional appeal and serve as a mouthpiece for victims of injustice.
For all those reasons, film is an excellent way to stir debate and promote human rights education. And that is no luxury, since research from the Human Rights League and the University of Amsterdam has shown that (young) Dutch citizens know little about human rights.


Movies that Matter film screenings would not be complete without an expansion programme, in the form of discussions, debates, talk shows, introductions, speeches or Q&A sessions, to further explore the subject matter of the films shown on the big screen. This trademark sets us apart from other film festivals,. Human rights defenders, filmmakers, experts, politicians, journalists and representatives of social organisations jointly analyse the situations in which human rights are at stake in order to put things in perspective.


Các tin khác: