Denmark offers to help Vietnam amend Constitution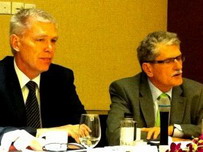 The Danish Parliament is willing to help Vietnam with its efforts to amend the national constitution, a senior Scandinavian lawmaker said on the sidelines of a Hanoi meeting in March.
Mogens Lykketoft, chairman of the Danish Parliament, told local media that he made the assistance offer during a meeting with Vietnam's Justice Minister Ha Hung Cuong, news websiteVietNamNet reported.


Vietnam has established a committee to study amendments to the 1992 Constitution.


A referendum on the new constitution will be carried out between March and April 2013 and is expected to be approved by the National Assembly in October.


Lykketoft, who ended a four-day official visit to Vietnam Wednesday, said relations between the two countries have been boosted over the past four years.


He noted Vietnam's efforts to increase the supervisory role of the National Assembly over the government.


He also expressed satisfaction about the use of Danish official development assistance (ODA) in Vietnam. Denmark is one of Vietnam's major donors with around US$50 million of ODA a year.


Despite the European sovereign debt crisis, Lykketoft said ODA funding to Vietnam will not be affected until 2015, as it was already been pledged.
He suggested Vietnam reforms its investment environment with a transparent legal framework that guarantees fair competition and protects the rights of foreign investors.


Denmark has 125 companies operating in Vietnam, the biggest number among European countries.

Picture: John Nielsen (left), Danish ambassador in Vietnam, and Mogens Lykketoft, Chairman of Danish Parliament.

Các tin khác: