Human Rights Film Award for Aung San Suu Kyi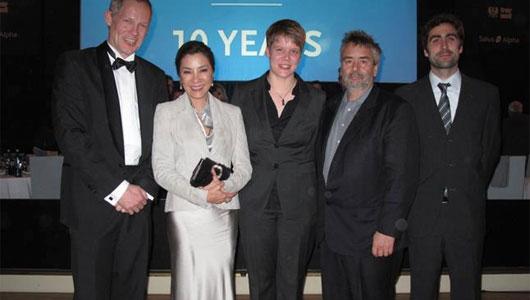 At the Cinema for Peace Gala in Berlin the International Human Rights Film Award has been presented to Aung San Suu Kyi.

Ảnh: đạo diễn Luc Besson và nữ diễn viên Dương Tử Quỳnh (Michelle Yeoh, người vào vai nhà dân chủ đối lập Miến Điện Suu Kyi) nhận giải cho phim "Quý Bà" (The Lady)
The International Human Rights Film Award is an award by Amnesty International, Cinema for Peace and the Human Rights Film Network. Each year, the award laureates a human rights defender that was portrayed in a recent feature or documentary film. In the presence of many politicians and celebrities, director Luc Besson and actress Michelle Yeoh received the award, presented on stage by Bianca Jagger and German comedian and filmmaker Michael Mittermeier.

The Lady tells the story of Nobel Prize winner Aung San Suu Kyi, who as a little girl is forced to flee Burma. She builds up a happy existence in England together with her husband Michael and their sons. When returning to her home country years later, she is deeply shocked by the military violence. Following her heart, she goes on a non-violent crusade against the regime. Michael's boundless love and support provide her the strength of will she needs to continue her struggle. In the end, however, she has to make a cruel choice between her country and her family. The Lady is a story of devotion and human understanding set against a background of political turmoil which continues today; ...
Các tin khác: